MicroliteTrailers Inc, builds custom aluminum light weight minimalist camping trailers, as well as light weight motorcycle cargo trailers.
Vymeron - Wazat - Cargolite - Cargolite Extreme - Pup - Motomate - Mojo and Mojo XL
Our newest prototype shown here, the pup, weighs in well under 400lbs with room to sleep up to four!
Introductory factory direct price $2500.00
Click On Center Photo for Setup Video
Our Cargolite Extreme is now past the prototype stage and in full production. This newest hauler/camper is capable of housing a quad or motorcycle and then become your evening queen sized sleeping quarters complete with a/c, microwave and fridge standard! The whole package weighs in between aprox. 1100 - 1300 lbs. depending on equipment. The front is sloped down to allow the air to slip over the trailer adding to the smiles of the tow vehicle driver.
My personal testing has shown that a four cylinder Subaru is able to tow our newest camper with ease, making the Cargolite Extreme a very rare offering as a stand-up-in camper that can be towed with a small four cylinder vehicle.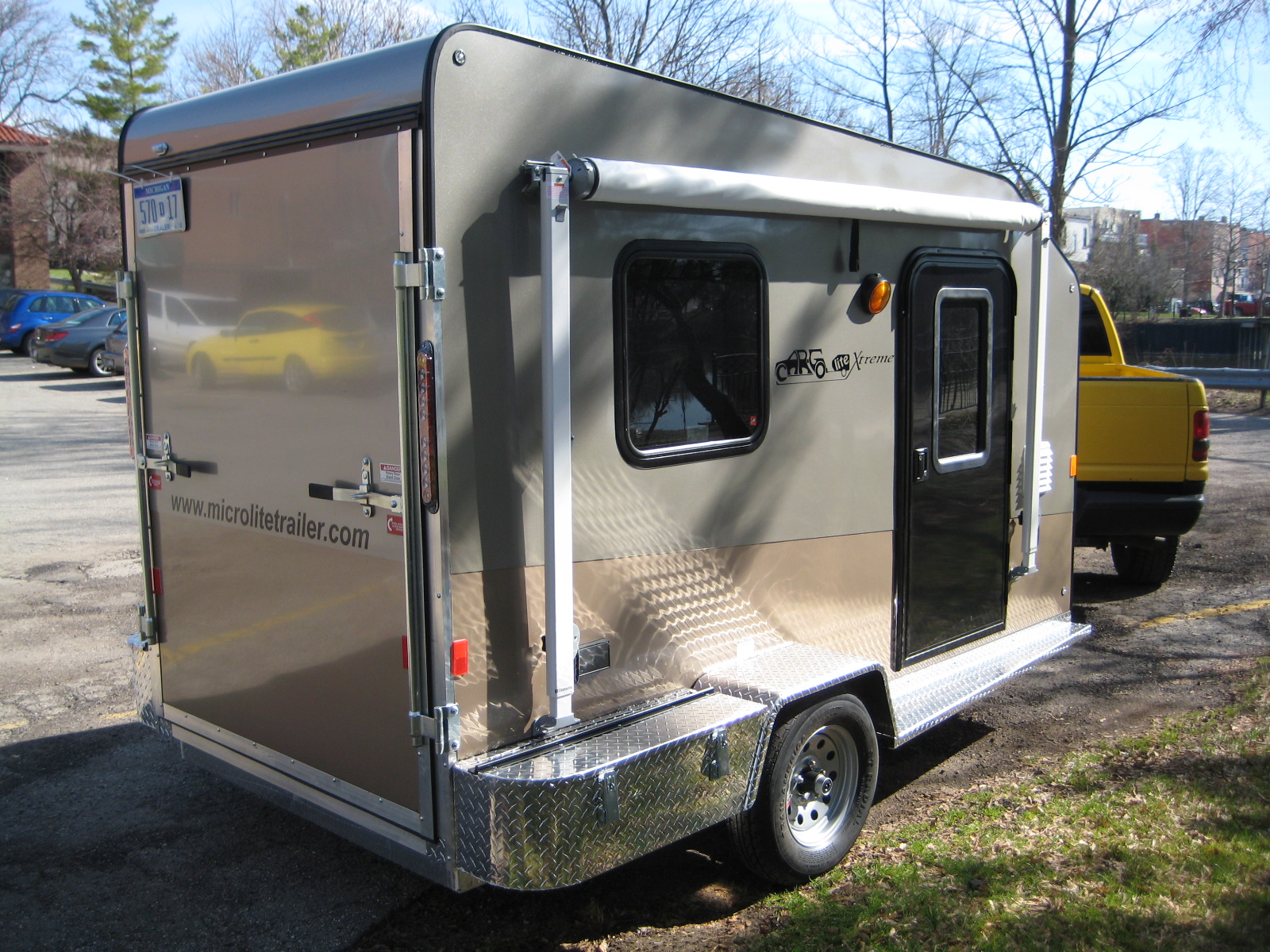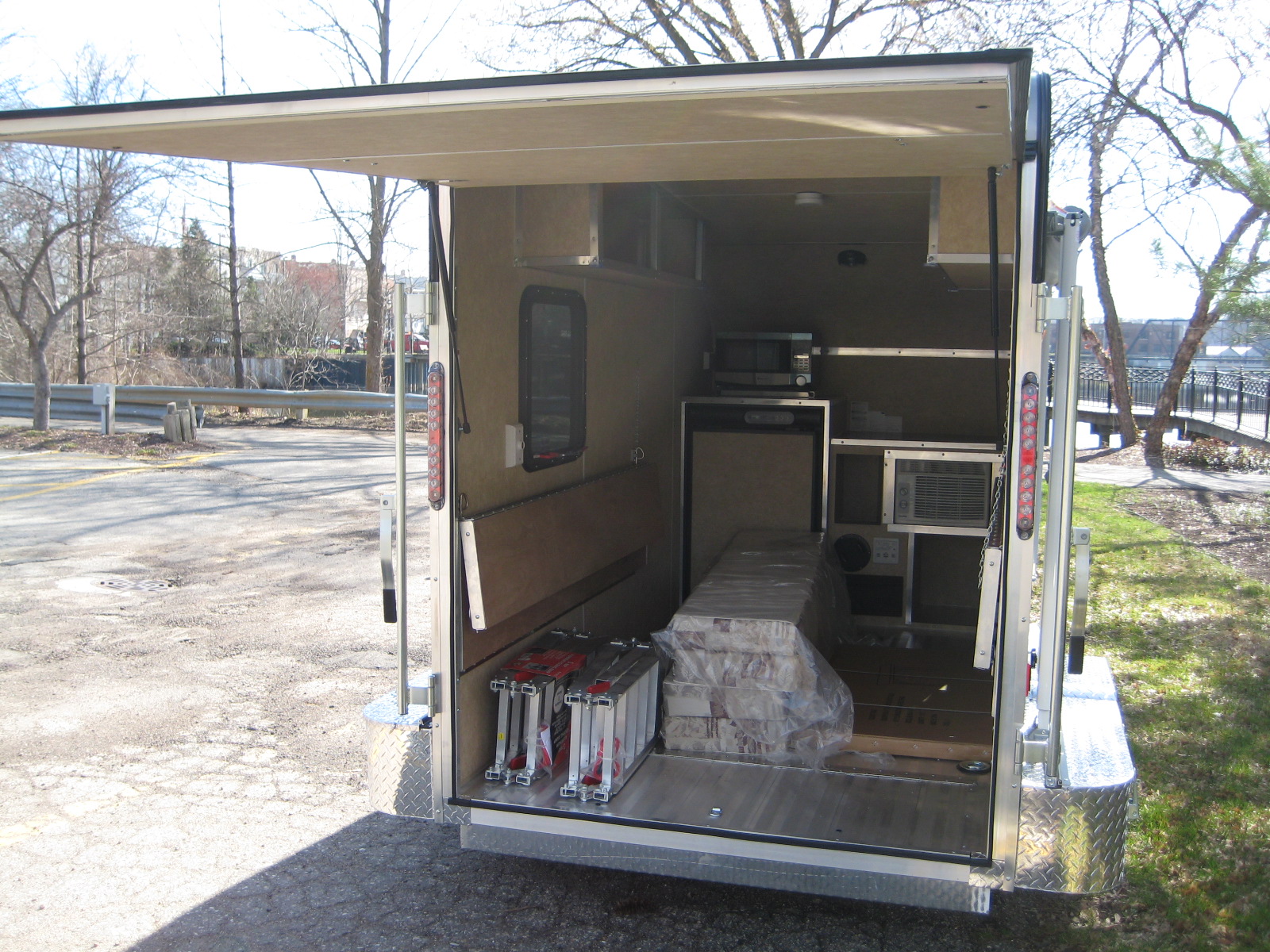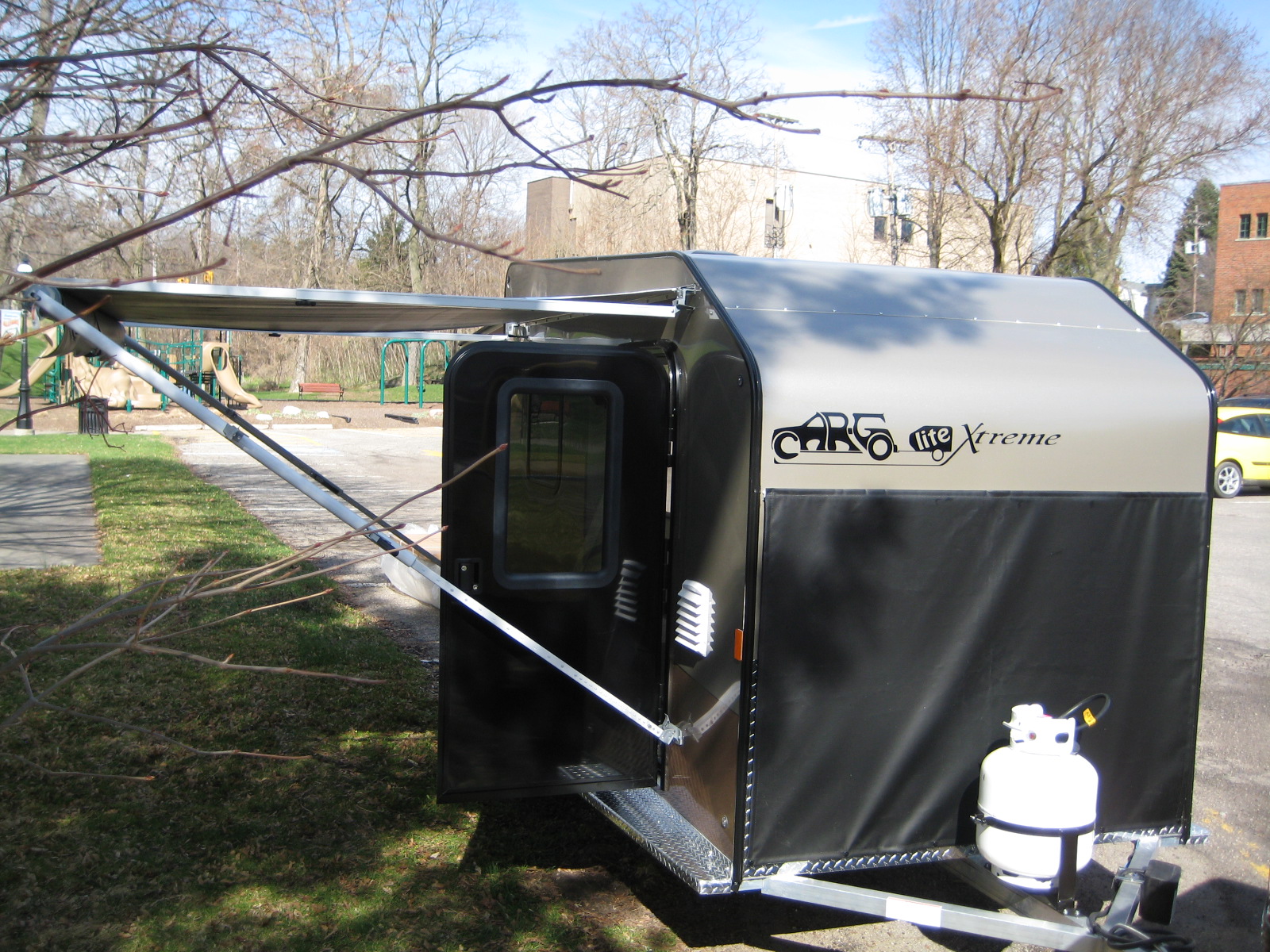 This unit shown here was custom built for a Canadian customer with a much larger refrigerator and only one people door instead of the two that come standard. The large black cover on the front was special designed to protect the larger vents needed for the big fridge. We will be happy to discuss custom needs for any application.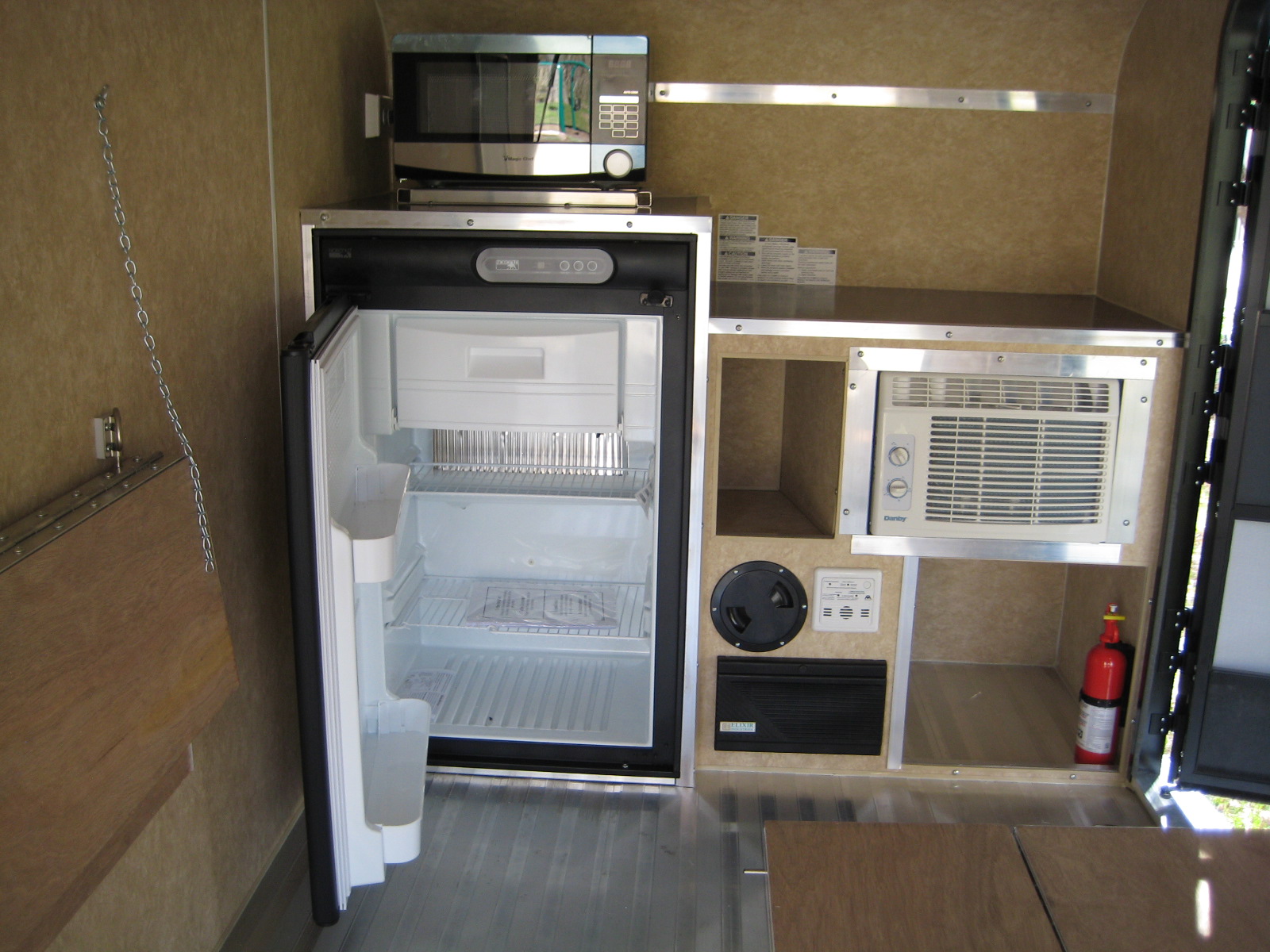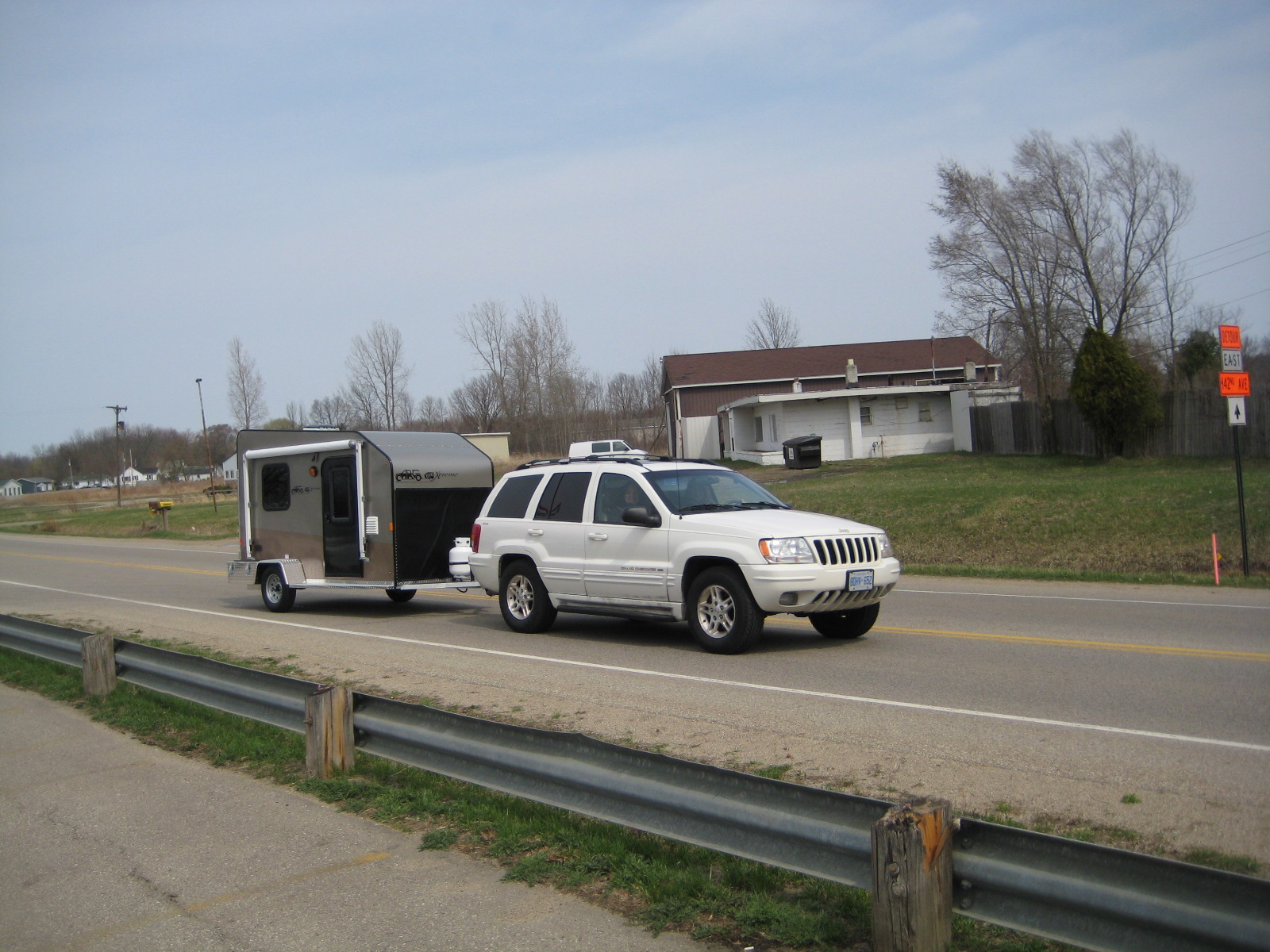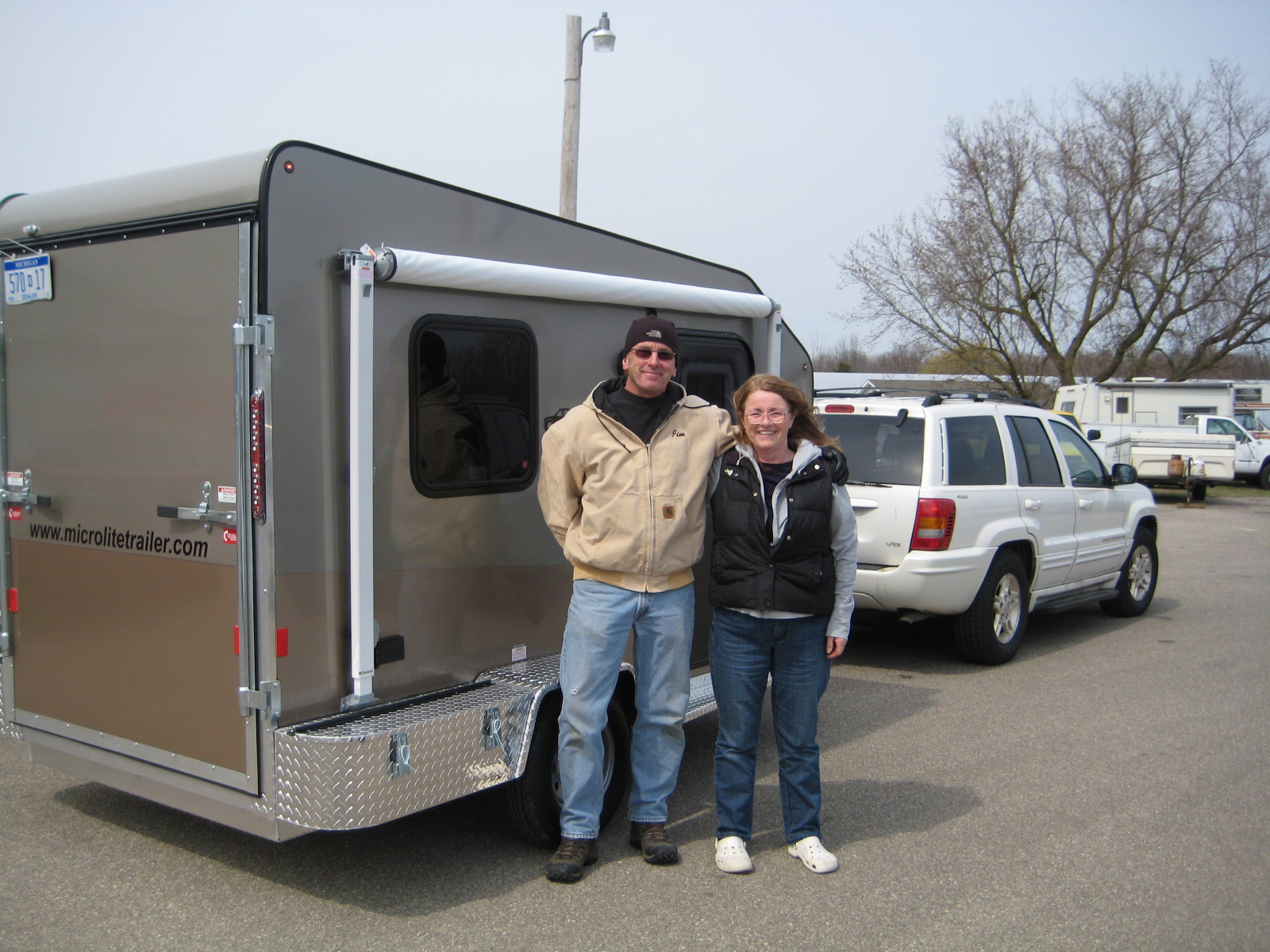 Our Wazat camper, loosely based on the teardrop style of campers popular in the 50's and 60's weighs in at about 750lbs. This camper pulls easily with most any car including four cylinder models. Your imagination is the only limit to it's uses.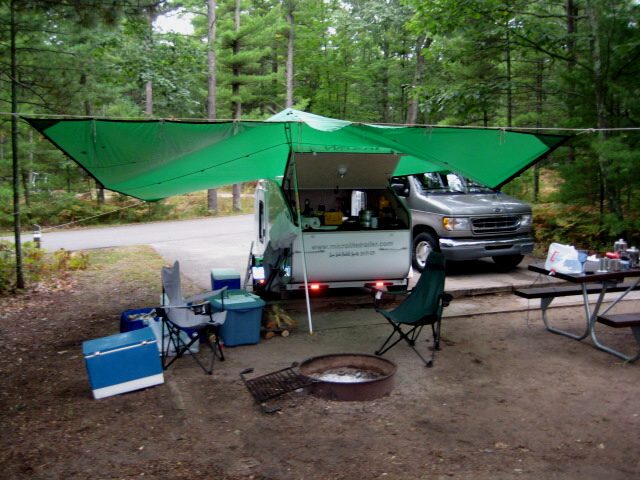 The Wazat lifts off it's custom 5x7 tilt bed utility trailer, camp one day haul your riding mower the next!
With Canadian customers needing a sturdy ice fishing shanty, we now offer a removable floor section to make the pod a great fishing shanty!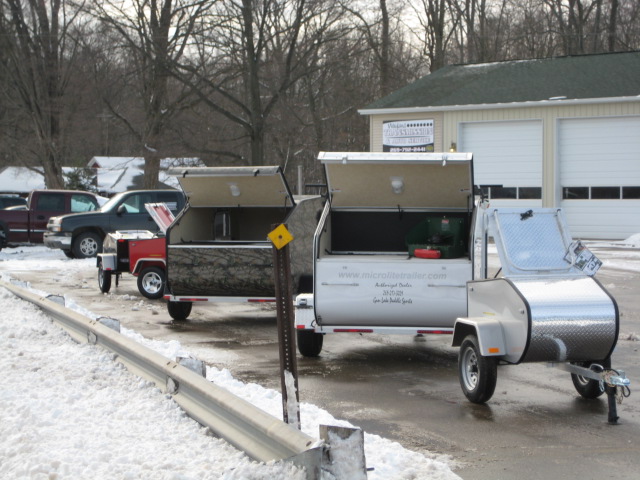 The Vymeron is our largest model, designed for those who need a bit bigger camper you can stand up in. At 13.5' and 1500lbs.it is one of the smallest and lightest campers anywhere. Built out of 100% heavy gauge aluminum frame and skin, sitting on top of twin axles, we think this unit tows like no other with your small truck, sport utility or medium size car.
The Vymeron Toy Hauler is the same as the camper but offers a fold down heavy duty rear ramp door to fit your favorite toy,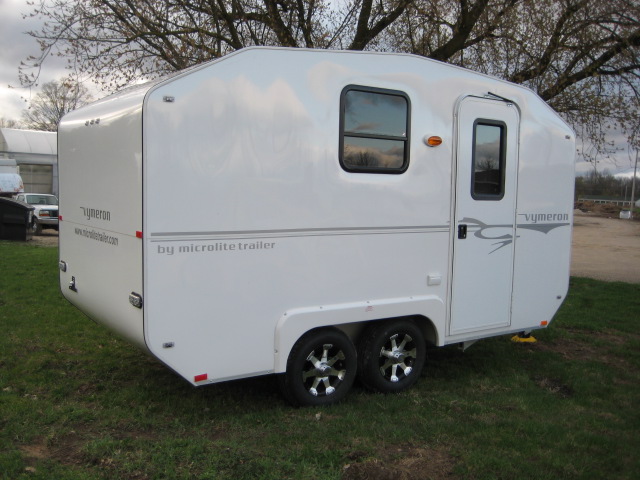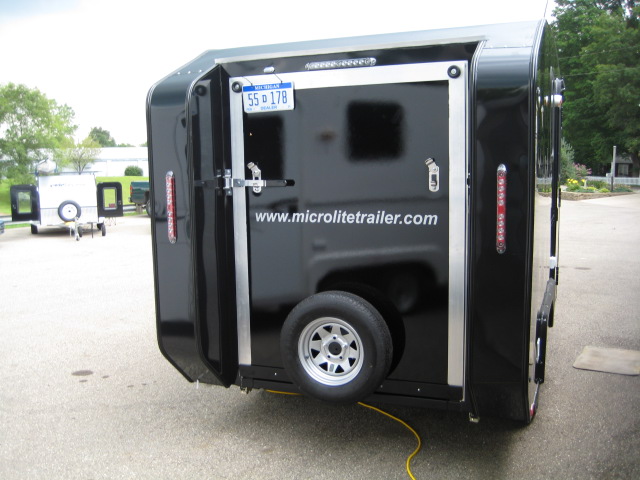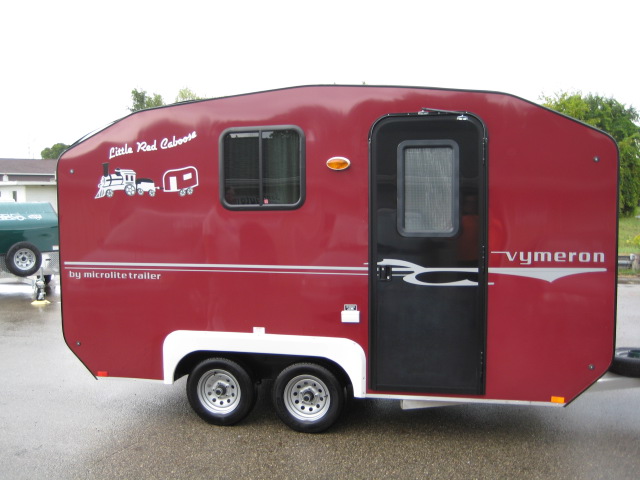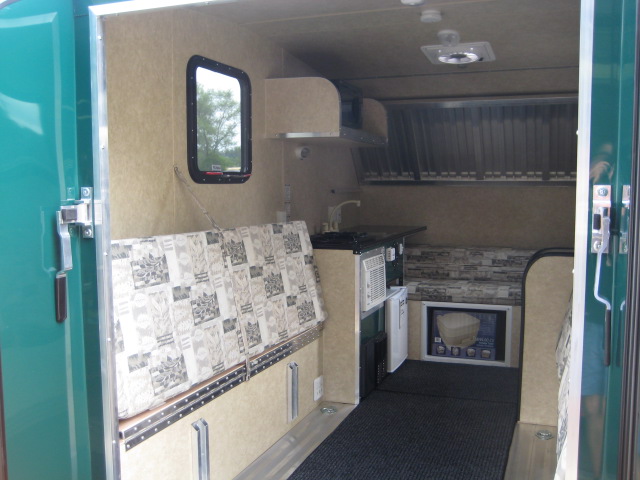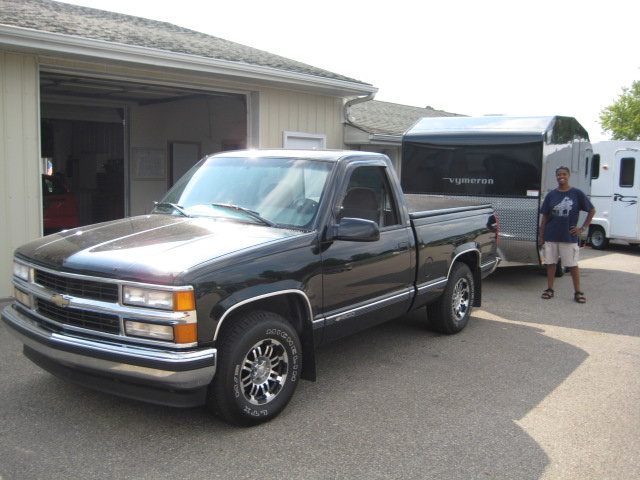 The Cargolite is one of our newest offerings, a small toy hauler style with a fold down ramp door. Size and weight is nearly the same as the Wazat, with the ability to haul like a regular cargo trailer, but sleep in warm dry, even air conditioned comfort if you choose!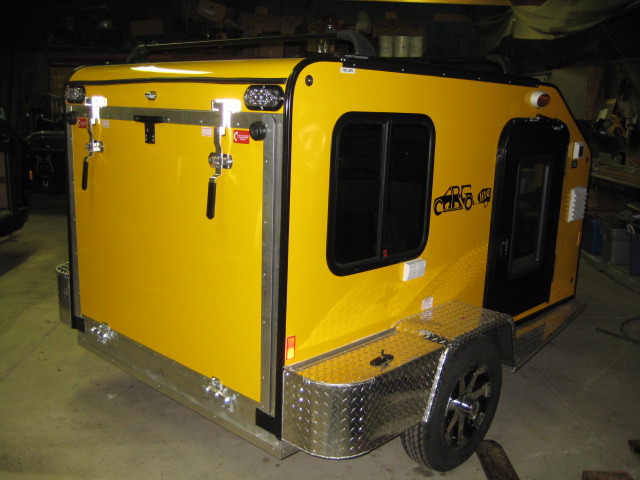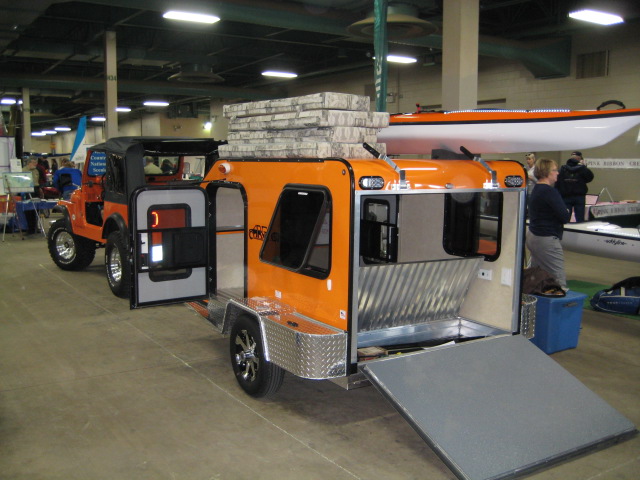 Here is a new color for 2011 - Brozemist Metallic - this should be a great color for keeping cool in the summer sun and not showing dirt and scratches. This unit is currently in stock and has the optional alloy wheels, the battery prep package and the rack prep package. While towing it back from Elkhart with a four cylinder pickup I found it hard to stay within the 70mph speed limit..... I love the light weight of aluminum and the slippery shape!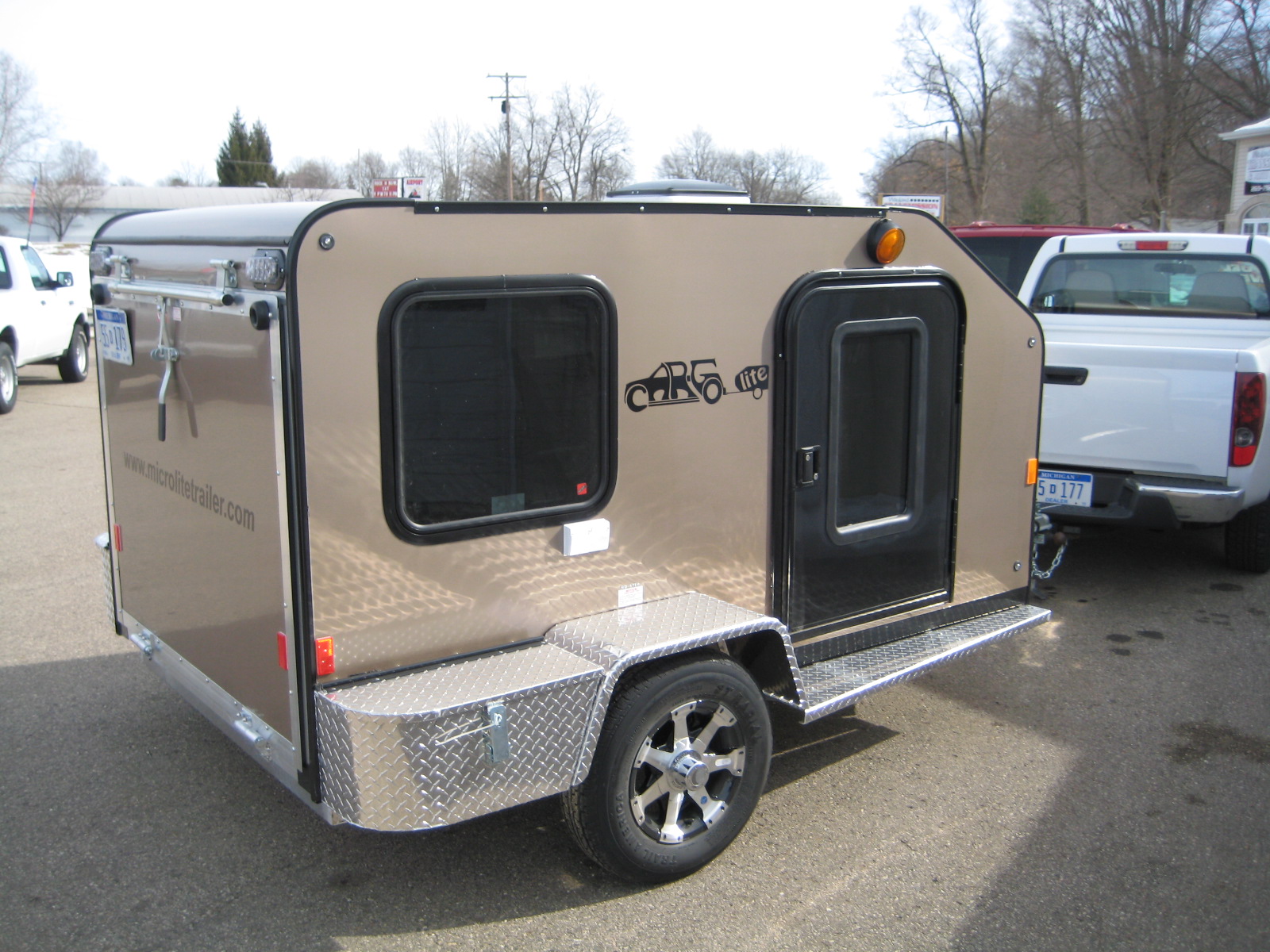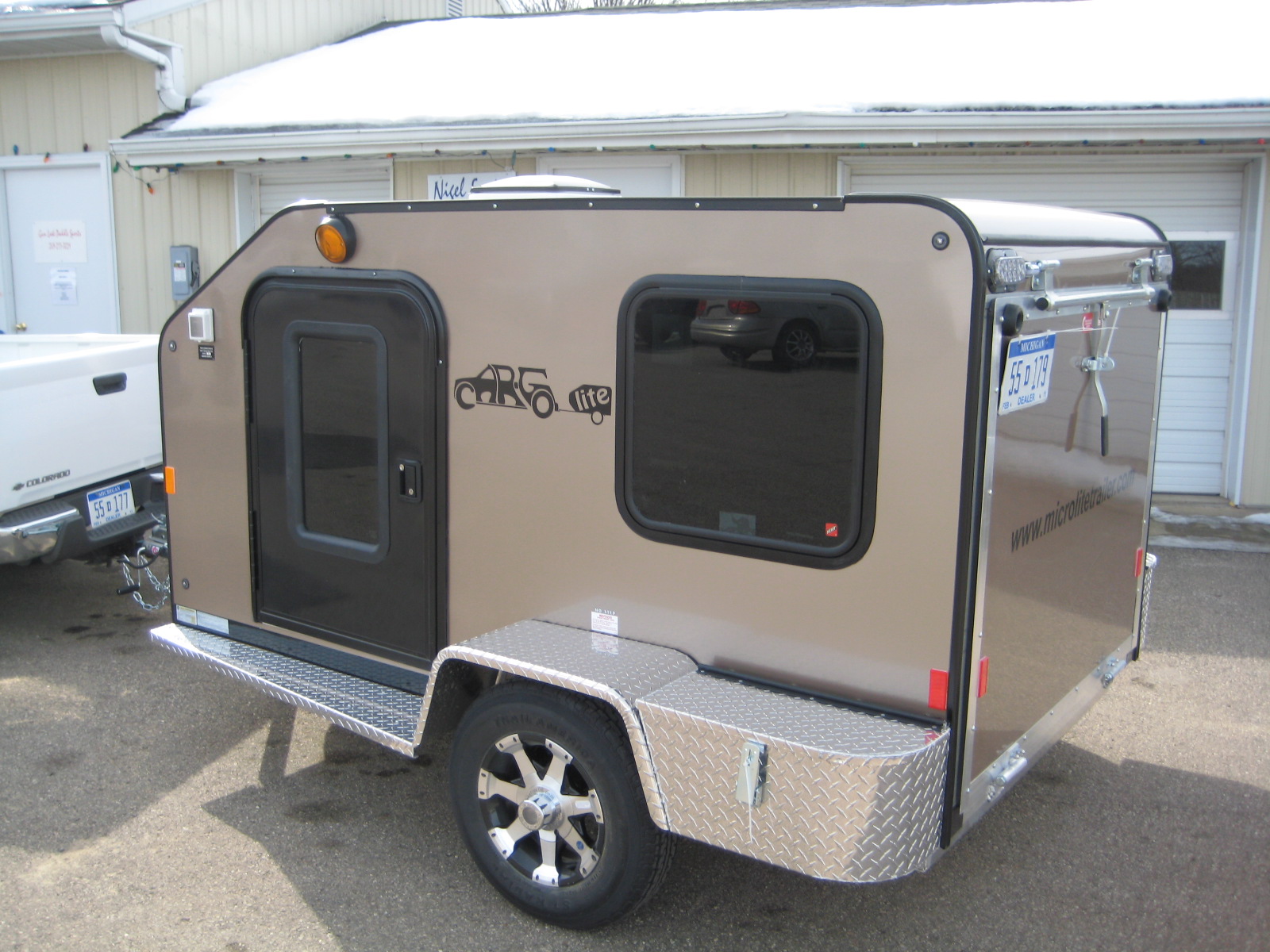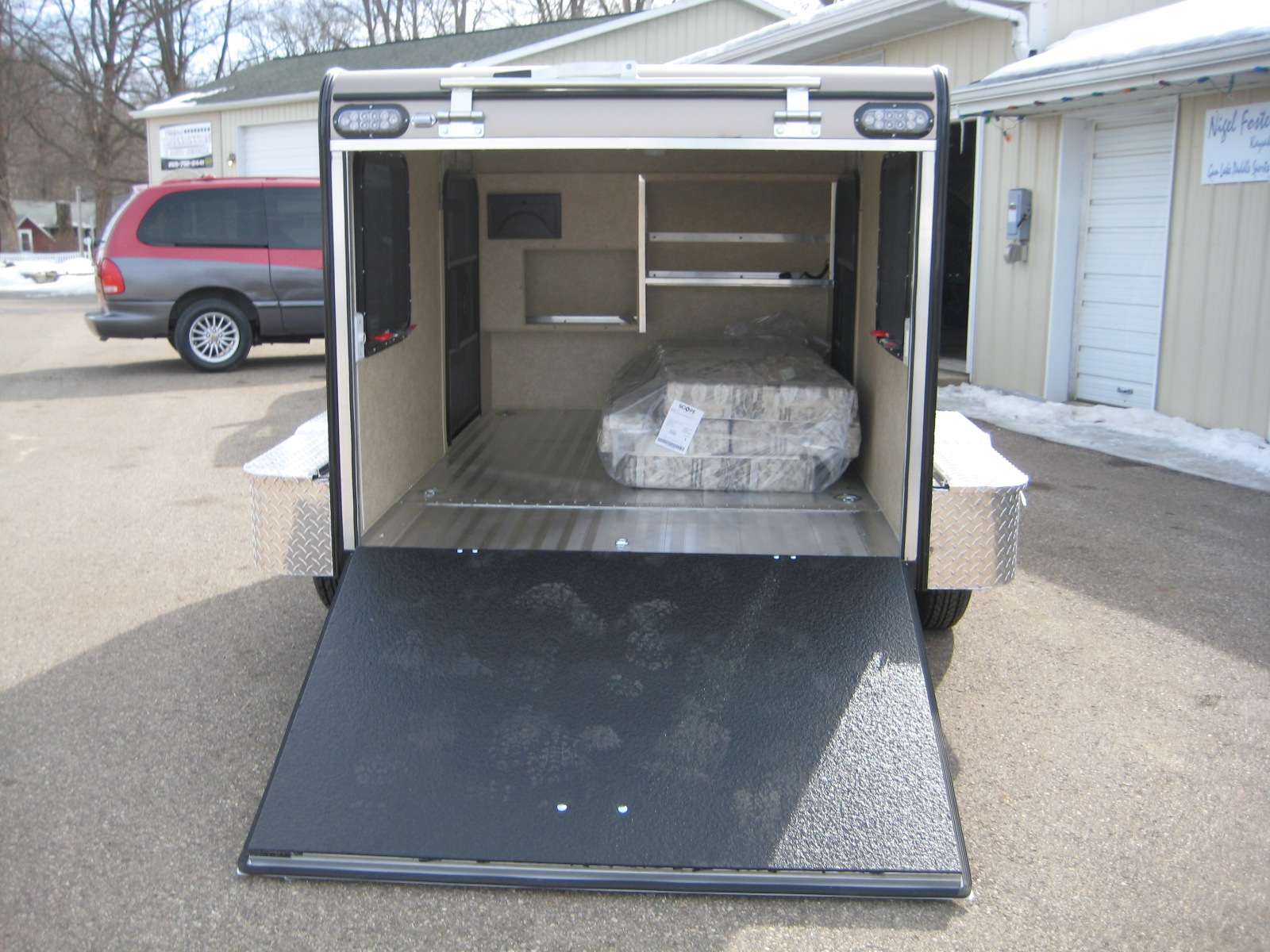 Our designer and his wife busy at the laptop at one of our recent shows, in the comfort of the vymeron toy hauler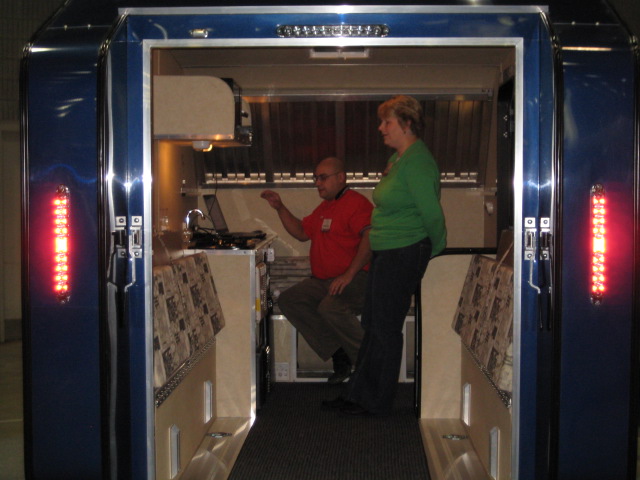 interior shots of the standard vymeron bunk house
the motomate on a 2500 mile road trip shortly after taking delivery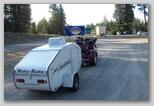 Below is the"Mojo" and th Mojo XL cargo trailers for
motorcycles (or cars if you prefer) being towed on a long trip including the famous "dragon" ... straight tracking and easy to tow were this owners comments.
At 160lbs it tows easily behind most street bikes.
Alluminum frame and skin make these trailers light and strong.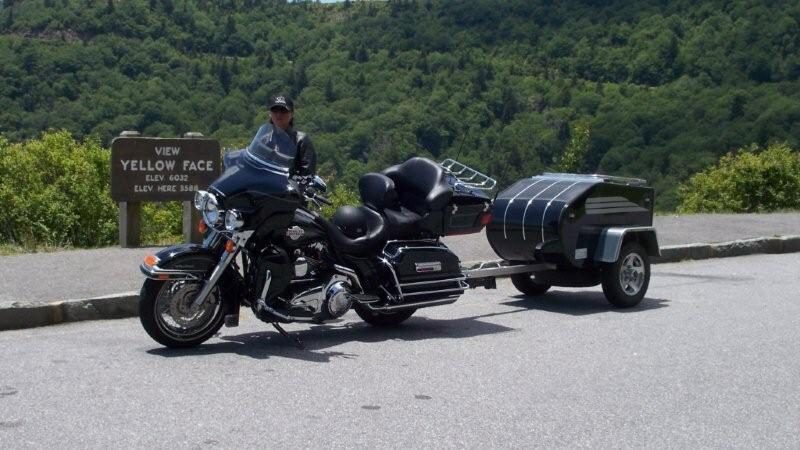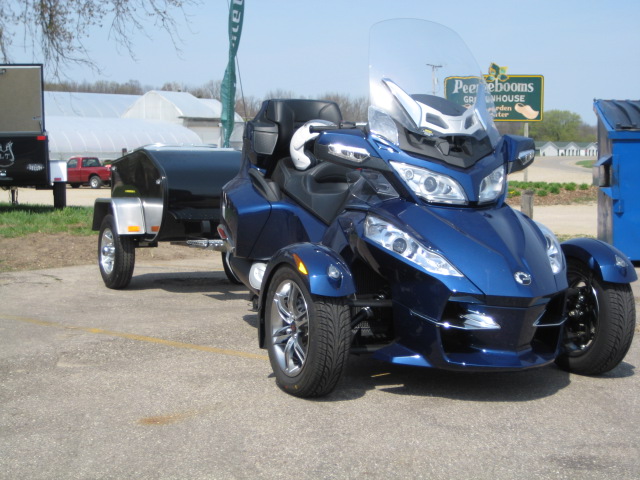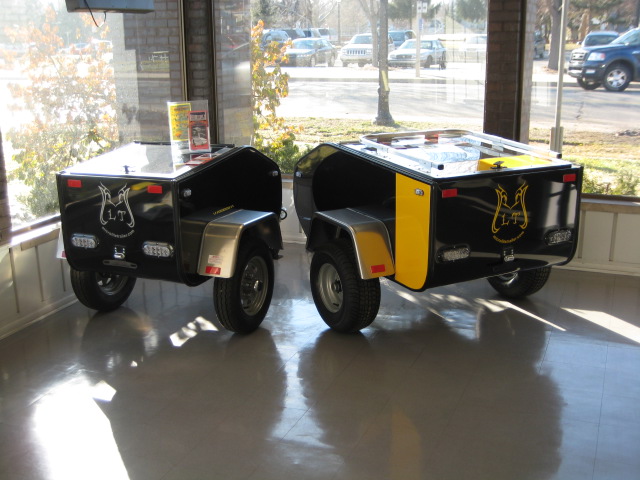 The Cargolite equipped with the rack prep package will allow the use of Yakima or Thule rack products.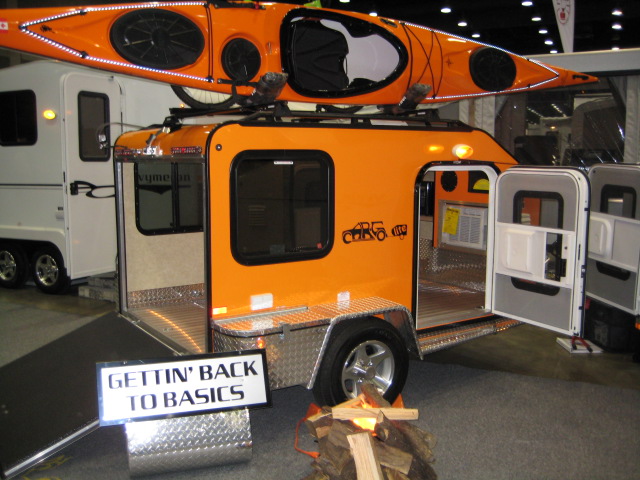 the cargolite doing its job as a hauler/camper.......those are nearly 18' sea

kayaks on the roof!

the specs of the new cargolite